PROFILE
THE SHORT AND SWEET VERSION ....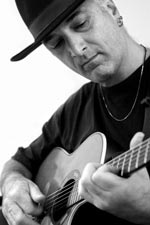 JONATHAN ASH ….
Has toured with many bands including 10CC, The Crystals, Johnny and The Hurricanes,The Shangrilas and Wayne Fontana and the Mindbenders. He recorded an album of own songs at the end of the 70`s and toured until he came to Denmark in 1981.In Denmark he has played in bands and theatre productions. He has toured in Europe with his Theatre Show "Rock Clock", which has to date performed to over 140.000 people. The CD "Touch The World" was produced in connection with this show.
He currently plays in the band Jaja, which he co-founded with the Danish musician Jesper Agerschou and their third CD "Tales From Happy Alley" has been widely played on national radio.
He also performs solo and has recently been on tour in Britain and Germany, warming up to the band The Gathering. His solo CD "Music From Another Room" was released during this tour.
He recently took part in the project "The House Of Songs" when he visited Austin Texas and wrote songs with American songwriters. Two of these songs appear on his next CD "From Heavy Boots To Dancing Shoes".
He also entertains at parties and corporate events as "The Band In A Man."
THE LONG AND SOUR VERSION....
Born in Nottingham England ,I grew up in the then village of Wollaton, on the outskirts of the city. It has , of course, been absorbed by the ever growing Nottingham and theres just the village pub,The Admiral Rodney, left to show its former ruralness!
At the age of 6 I was chained to a piano by my musically inclined father and took piano lessons with a woman in Nottingham whom I can´t really remember. I was not inspired by the music i had to play and had to be bullied into practising. My brother still has the old family piano which bares the scars of my frustration -two deep scratches in the lacquer from the metal pins of the music stand-I remember I enjoyed the vandalism though!
My father introduced me to classical music-he liked Strauss and I remember seeing the opera Die Flagermous
Around this time my brother was playing in a skiffle band on his electric Hofner Committee guitar.I liked skiffle but hated rock and roll
At the age of 9, the family moved back to Manchester because of my mother´s long illness, to be close to the rest of the Ash and Sutton clans.To my relief, another piano teacher was never found and I was left in peace.
Moving to Manchester , although exciting, had its cultural shocks.My first attempt to buy an ice-lolly brought ridicule when I asked for a "sucker" which is what we called them in Wollaton.
My mother passed away when I was 11 and I began life as a black blazered first year at Stand Grammar School For Boys shortly after.
Then came The Beatles.....
I distained girlie-pop music and because of the pop fan reaction to the Beatles- I distained them too---distain. distain, distain.
One night at my uncle Eddies house in Hampstead Garden Suburb, I saw the Beatles on tv play She Loves You ..... I was sold. It was FAB. I became a respectable fan.